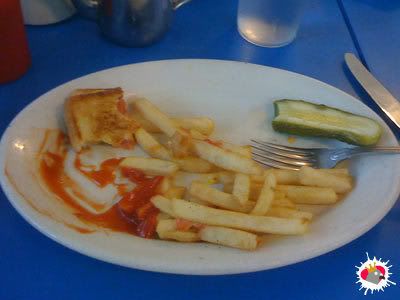 Being a single guy in New York City can be tough sometimes. There's a prominent dating culture that surrounds you. With all the bars and restaurants lining the streets you can pretty much see a date going on at all times. To a person that's single, it can be quite disconcerting if you're not jumping into the flow of the dating river as well. The whole point of all this dating is to find that special someone that makes you feel awesome every time you see them. Well, I've found that feeling...it's been sitting under my nose the whole time too!
I realized this when I paid a visit to my neighborhood diner this Sunday. When my roomate's order of two eggs, over-easy with hash browns and toast was placed in front of her, she gushed, "I love this, its
EXACTLY
what I want!" I felt the same way when the waitress handed me my Grilled Cheese with bacon, tomato and fries. If I could find a girl to say that about, I'd be happy...but until then, Grilled Cheese and bacon it is.